If toasting marshmallows on an open fire, sleeping under the stars, and relaxing in an outdoor bath sound like your idea of bliss, then a luxury log cabin could be your ideal staycation. From wooden Scandinavian-inspired lodges, to plush coastal hideaways, here are some of the best the UK has to offer.
Hinterland Cabin, Conwy
Those after a luxury staycation should book Hinterland Cabin. Tucked away on the edge of Snowdonia National Park, this unique hideaway overlooks Conwy Valley – one of Wales' most beautiful areas. Featuring a walk-in shower, underfloor heating, a sauna, hot tub, and hidden extras in every cupboard, you'll feel right at home. Hinterland is made from old slate and railway sleepers from the Conwy valley line, while inside, the cabin has been beautifully furnished with original oak beams, gold accent furniture and a stylish double bedroom that sleeps two. The property is dog-friendly too, so your four-legged friend will be able to make the most of the great walking opportunities in the area.
The Nap, Devon
This stylish cabin in the Devonshire countryside is ideal for a quiet, secluded staycation. Set on a working farm on a gently sloping hill, The Nap has stunning vistas across Taw Valley and Exmoor. Inside, there's a fully fitted kitchenette, downstairs double bedroom, and a mezzanine bed where you can fall asleep under the stars. The property also comes with a Swedish wood burner, and a wood fired hot tub that backs out onto the farm (there are even spare wellies if you want to go exploring). The Nap is also close to an array of country pubs, though if you want to try some of the local produce, you can request rare breed sausages, pork belly or prime cuts of beef from the farm's butcher.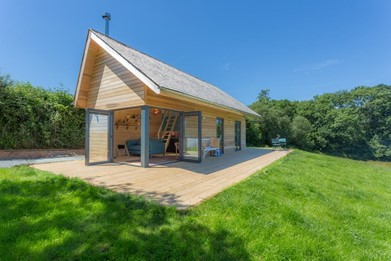 Saddlers Cabin, Northumberland
Located on the outskirts of the Northumberland coastline, Saddlers Cabin is a great choice for budding explorers and families. The rustic space has been decorated with stylish wooden accents and cosy furnishings where you'll be able to enjoy the peace and quiet. In the cabin, there's a cosy living area with an indoor wood burner, a modern bathroom, and a stylish master bedroom with a beautiful floral canopy. There's also has a well-equipped kitchen for self-catering, so you can make the most of the delicious local produce. For a family day trip, head to Bamburgh Castle or Kielder Observatory, both of which are only a short drive away.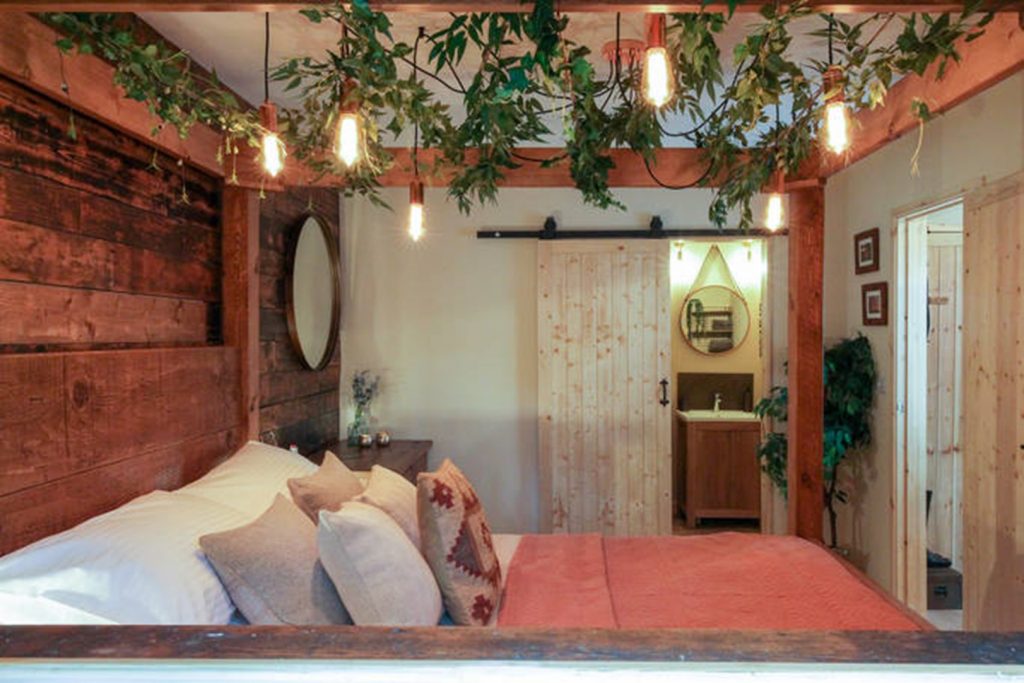 Knoydart Hide, Loch Nevis
For a romantic getaway on the west coast of Scotland, head to Knoydart Hide in Loch Nevis. Although the cabin sleeps up to four, we love its rustic charm and remote location which is best suited to couples. Overlooking the picturesque Loch Nevis, you'll be able to see a vast woodland in the distance, as well as the Isle of Skye, while inside the cabin, there's plenty of space in the generously sized rooms. The bathroom has a rustic free-standing bath, while the large living area includes a stylish wood burner. Guests can relax in the hot tub – the ideal stargazing spot – and head on woodland walks to see wild otters and porpoises. The local country pub is a great place for Sunday lunch, though guests can request meals from the resident chef on site.
Willow The Wisp Cabin, East Sussex
This Scandinavian-style log cabin is only an hour's drive from London, making it ideal for a last-minute getaway. Burrowed away in the peaceful East Sussex countryside, you'll feel right at home in the cosy hideaway which sleeps two. The cabin is simple yet stylish, featuring a double bedroom and bright living area, while a luxe outdoor tub awaits on the patio. Willow the Wisp is great for outdoor explorers – it's surrounded by vast woodland with two hidden treehouses, while Bewl Water reservoir, a lovely walking route, is nearby, too. Head into Hastings or Tunbridge Wells for a day trip or make the most of the beautiful coastline at Rye.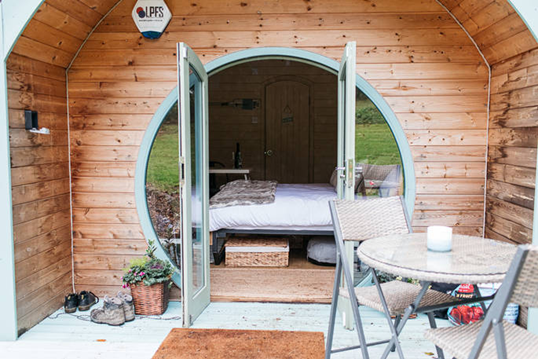 Samphire, Essex
For a coastal retreat, book a weekend at Samphire log cabin in Essex. Located on Sampsons Farm in Colchester, this weather-boarded cabin-on-stilts overlooks the Ray Channel with harbourside and farmland views. It sleeps up to four people within a large open plan area, a simple yet chic bedroom, modern bathroom, and private decking for outdoor lounging. Beautifully styled with nautical-inspired interiors and oak features throughout – the cabin looks particularly bright and airy during the summer months. Adventurous types can explore the Channel on the property's kayaks, or head into one of the charming villages nearby.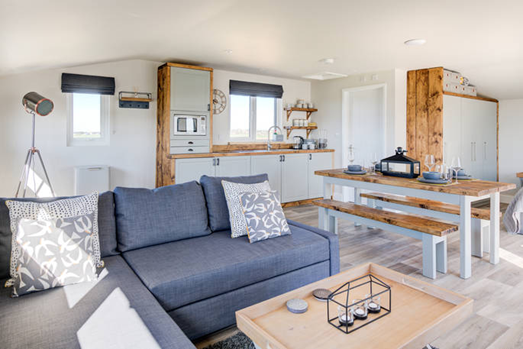 Little Bear, West Sussex
Set in acres of bluebell-swathed woodland, Little Bear log cabin is a unique hideaway in the West Sussex Weald Downlands – the ideal location for nature lovers. It sleeps two people in a king-size bed and also has a separate shower room, and a mezzanine where you can relax on a daybed. The cabin oozes luxury throughout, with original wooden beams inside, plush furnishings, and an eco-wood-fired hot tub. With a few charming country pubs just a short walk away, you can explore the local area, before having a cosy evening at Little Bear. Upon arrival, you'll receive a welcome hamper that includes outdoor blankets, toasting marshmallows, red wine and kindling logs.
Ewe View, Powys
Perched high on a hill in the Welsh countryside, Ewe View is a charming log cabin that sleeps up to four guests. Set on Penlam Farm, just an hour's drive from Aberystwyth in Powys, it overlooks lush grassland and comes with beautiful views of the valleys. While the setting is strictly pastoral, inside you'll find cosy, modern interiors that have been stylishly decorated. Complete with a shower, well-equipped kitchen, and wood-burning stock, the cabin has everything you need for a quaint weekend away. A blissful evening can be spent relaxing in the hot tub or stargazing by the fire.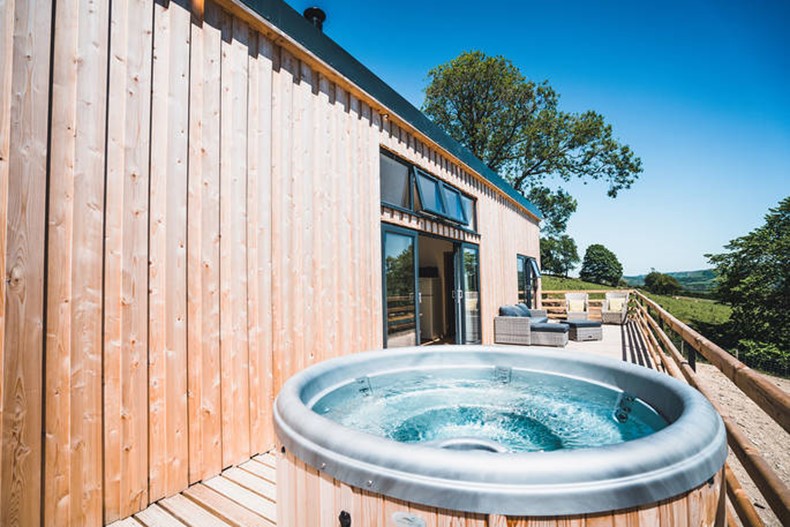 For any bookings or more information above the above log cabins, please contact your lifestyle manager.