Afternoon tea always feels like a treat – so it might just be what you need to brighten up your routine. Whether you're looking for a thoughtful gift idea, an accompaniment for your virtual event, or just a weekend pick-me-up, here are some of our favourite at-home kits to order now…
BEST FOR SPECIAL OCCASIONS: Sketch's MMmm… Afternoon Tea
Bring the iconic, millennial pink tea emporium into your living room with Sketch's afternoon tea kit. Housed in a sumptuous pink 'jewellery case', this divine assortment of goodies comes in original, veggie, vegan, pescatarian and gluten-free editions. Expect delights ranging from classic coronation chicken finger sandwiches on malted grain bread to delicate cherry choux pastries and buttery scones. Tea kits come with a fragrant Tea-JING Vanilla Black Tea, a soft and creamy blend with sweet vanilla tones. Alternatively, level up your high tea with assorted champagne and cocktails for a supplementary cost.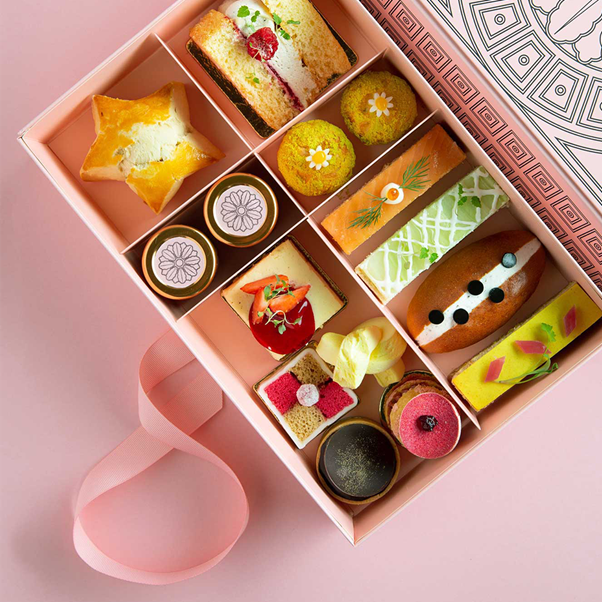 BEST FOR HUNGRY FAMILIES: Gail's Afternoon Tea For 4
You can always depend on high-street favourite Gail's for the fluffiest pastries and crisp, golden loaves, and their afternoon tea is no exception. Inside their afternoon tea kit, you'll find four deliciously crumbly scones ready to slather with Rodda's clotted cream, along with GAIL's organic jam and luscious lemon curd. On the savoury front, there are perfectly formed smoked salmon and egg cress sarnies. Finish with chocolatey brownie fingers or moist honey cakes, and wash it all down with a loose-leaf JING tea.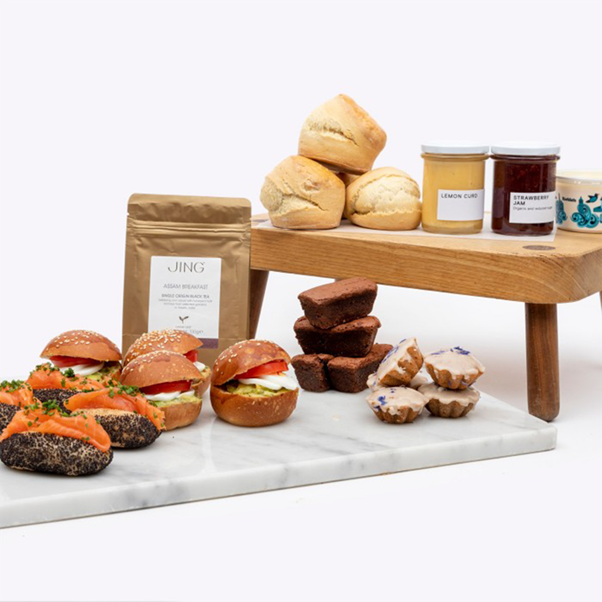 BEST FOR COUPLES: Cutter & Squidge's Afternoon Tea at Home
For a flavour-packed afternoon tea handmade in London using all-natural ingredients, choose Cutter & Squidge. One tea package for two includes brownies, lemon drizzle slices and scones ready to layer up with fruity jam and clotted cream. All teas are accompanied by Cutter & Squidge's Fine Loose Leaf Tea, too. It's worth noting the teas are best enjoyed on the day of delivery, but if you want to store it, simply pop it in an airtight container and refrigerate. Remove the brownie and cake one-to-two hours before serving and warm up the scones (at 180°C for five-to-seven mins) before serving. 
BEST FOR FRUIT LOVERS: Betty's Tea & Scones Gift Selection 
If lashings of cream and rich pastries aren't your thing, a classic hamper from heritage brand Betty's makes a delicious alternative. The centrepiece of the spread is a golden Yorkshire Tea loaf, beautifully studded with dried fruits and accompanied by four fruit scones, strawberry preserve and a box of Bettys Tea Room Blend 80 Tea Bags – so you can eek out the experience via your morning cuppa for weeks. Order through the site's standard service and your kit will be delivered within a date range of your choosing.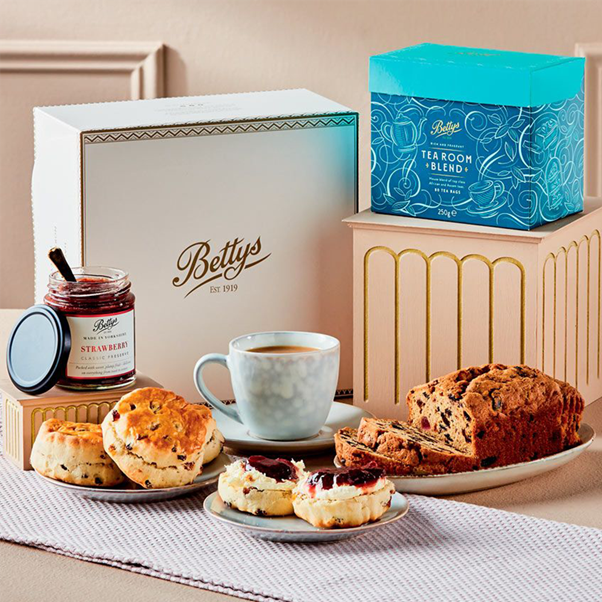 BEST FOR THOSE WITH A SWEET TOOTH: Afternoon Cream Tea Hamper – Banoffee Editions 
For a sugary twist on the classic afternoon tea, this banoffee themed offering for two from The English Cream Tea Company is gloriously decadent. The special edition scones are made with banana and coffee and delivered with – wait for it – a soft toffee mixture, fresh banana and fresh clotted cream to assemble at home. Other sweet treats include award-winning double choccie brownies, lemon drizzle cake and crisp meringue swirls. The savoury elements are no less mouth-watering, comprised of traditional cocktail finger sandwiches filled with cucumber and cream cheese, or lemon-laced smoked salmon. A signature Luxury English Tea completes the kit. The brand advise that if ordering for a Zoom meet-up, do consider booking for delivery the day beforehand and storing the food in the fridge overnight. 
BEST FOR VEGETARIANS: Kettle & Crumb's Afternoon Tea For 2 
For a superb veggie rendition of high tea for two, choose Hammersmith-based Kettle & Crumb's tea delivery service. Think chickpea hummus and chargrilled veg sandwiches on pillowy white bread, and cream cheese with cucumber on rye. Up next, a dinky box of traditional British savouries including luxury vegan sausage roles and blue cheese and broccoli quiche slices. The sweeter elements are just as good, from the sultana scones to the squidgy cake slices (lemon, carrot and brownie). A mix of fine English Breakfast, Darjeeling and Earl Grey accompany the kit – and all the packaging is sustainable, too.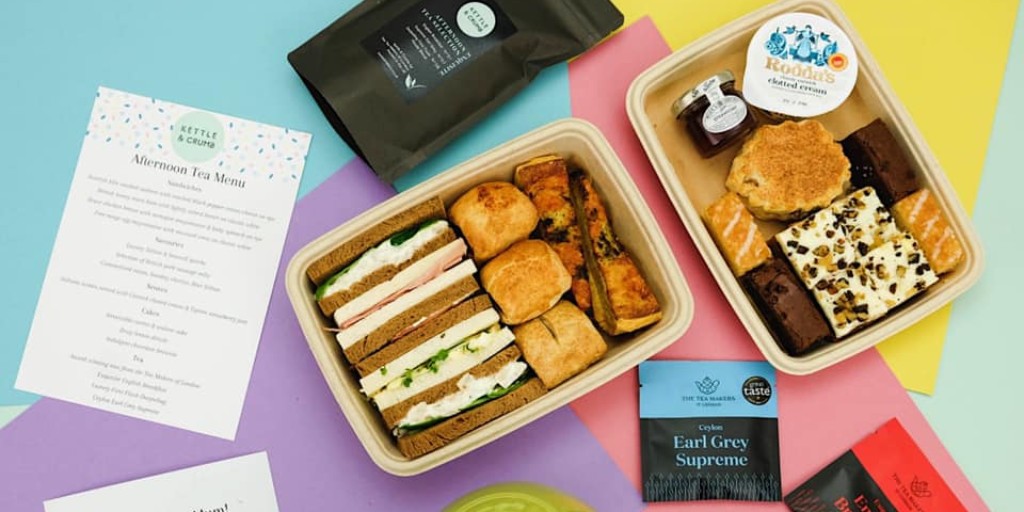 BEST FOR BISCUIT FANS: Harvey Nichols' Afternoon Tea Gift Box 
Harvey Nichols comes up trumps with this luxurious afternoon tea box – which, as it happens, is biscuit-based. Nestled in a plush gift box are buttery shortbreads made following an old family recipe and crunchy Cherry-On-the-Top biscuits, inspired by the almond-laden classic, Bakewell Tart. A duo of jams, freshly baked bread and six perfect cubes of creamy fudge infused with zingy lemon sherbet complete the box. All that's left for you to do is put the kettle on for a steaming cup of the classic Earl Grey or English Breakfast Tea provided.
BEST FOR BIG GESTURES: Fortnum & Mason The Mid Afternoon Tea Hamper 
A stalwart of all things luxury, Fortnums are your go-to when you want to bring out the big guns. Here, scones are substituted for a wealth of exquisite chocolates, preserves and biscuits. Single-handled huntsman basket? Check. Three luxe mini tea caddies? Check. Four kinds of biscuit to dunk into your 3pm cuppa? Check. Dig into Piccadilly Macadamia Nut Biscuits, buttery Shortbread Fingers and chocolate bars handpicked from Fortum's Chocolate Bar Library. Spoiler: the beautifully wrapped slap of white chocolate with strawberry and black pepper is a delight. Standard delivery takes between 3-5 working days; next day deliveries are available.
BEST FOR ARTISANS: Forman & Field Afternoon Tea for 2 (or 3)
When your tea comes encased in a beautiful hat box, you know you're in foodie wonderland. Here, artisan British food suppliers Forman & Field offer classic staples (freshly-made scones with strawberry ripple cream) alongside indulgent additions like painterly macaroons, chocolate salted caramels and a trio of mini cakes: brownie loaf, blueberry sponge, and lemon and pistachio. We love the thoughtful touches, like the tea strainer courtesy of The Tea Palace, to strain your piping hot Earl Grey. 
For more information on the above afternoon tea kits or if you wish to organise a virtual event and want an afternoon tea kits as a accompaniment to send, please contact our lifestyle managers.